IMPRESSIVE RESUMES EASY ONLINE BUILDER
Professional out-of-the-box resumes, instantly generated by the most advanced resume builder technology available.
Effortless crafting. Real-time preview & pre-written resume examples.
Dozens of HR-approved resume templates.
Land your dream job with the perfect resume employers are looking for!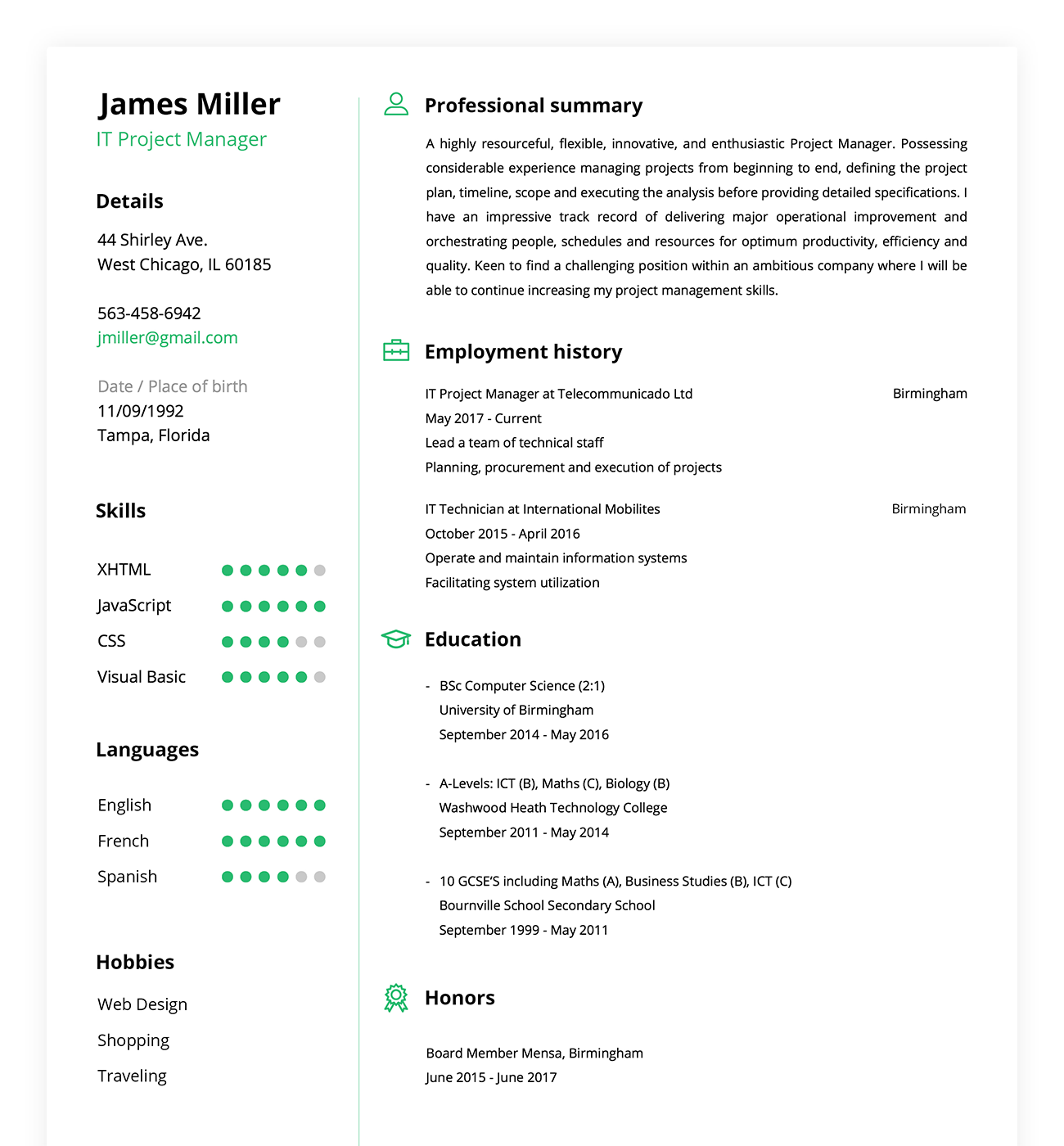 3 EASY STEPS TO CREATE YOUR PERFECT RESUME
CHOOSE YOUR
RESUME TEMPLATE
Our professional resume templates are designed strictly following all industry guidelines and best practices
SHOW WHAT
YOU'RE MADE OF
Not finding the right words to showcase yourself? We´ve added thousands of pre-written examples and resume samples.
DOWNLOAD
YOUR RESUME
Start impressing employers. Download your awesome resume and land the job you are looking for, effortlessly.
Skills To Put On A Resume - A Great Impression Without Saying a Word
Knowing the right skills to put on a resume that will impress the reader is not always the easiest. Yet, the skills portion of your resume is often the area that a hiring manager will focus on first, skimming over all of the other sections until they know if you have what it takes to do the job well.
The important thing to know about including skills to put on a resume is that you have to have a solid mix of both hard and soft skills. Employers usually want to know that you can do the job and that you aren't going to bring a lot of drama or stress into the company.
The skills section of your resume has to encompass all of your best qualities and attributes in a short summary. Before you can decide what to include, though, you need to understand what it is that employers want, and - heads up - it's not always about what you think it is.
Hard Versus Soft Skills To Put On A Resume
The majority of employers are looking for a healthy mix of things in an applicant. Sure, they want hard skills. These are things that are generally teachable and pertain to the ability to do the job. But soft skills are invaluable, too.
You may be able to be taught how to use a computer program (a hard skill), but if you don't have the desire to learn something new (a soft skill), or you already think you know it all, you will present challenges and obstacles to the employer if your way and their way don't mesh.
Hard skills to put on a resume are things that you can do that are specifically related to the job in question or the industry you are going to be working in. They may include things like software proficiency, the ability to operate a machine necessary to do the job, or the languages that you speak proficiently.
Soft skills to put on a resume are considered anything that can be included under people skills. These are attributes that you can use no matter which job you are in, but not everyone has them equally. You may be able to speak three or four foreign languages, but if you lack the ability to communicate well with others, that skill does you no good.
Don't overlook the importance of knowing which soft skills to put on a resume. What you think is just common sense or common courtesy is often a talent that is in short supply in some applicants. Traits like good customer service, time management, and leadership are highly coveted in many industries.
Soft skills and hard skills are often interrelated, too, and having both of them make you a well-rounded applicant. If your work history or job experience is not what you think is necessary for a coveted position, spotlight your soft skills, too, and don't skip applying for the position just because you lack the hard skills!
Identifying the Best Traits for the Skills Section of the Resume
Here's the question: How do you know what to put in the skills section of your resume? This is often the hardest part of writing your resume because it means you have to analyze yourself for things you do well. Most of us can find our faults quickly and easily, but what we are good at? That's a whole different story.
But if you want the job, you'd better start that deep soul searching and figure out what you are good at. Ask around to those who know you well and get their input on your top selling traits and abilities.
Then, put everything you compiled from your own analysis and that of others on a sheet of paper as skills to put on a resume. You may not know yet which ones you need to sell yourself to the reader as the perfect person for the job.
If you are having trouble coming up with a list of your strong qualities, you may just need a nudge in the right direction of thinking. Consider the following questions to help you find your best traits:
What areas were you confident in during your previous jobs or education experiences?
What do people tend to compliment you on the most?
What are some skills to put on a resume that you find easy to do that people sometimes ask you for help with?
Once you have those skills, think about these other areas and include your answers for them, too:
Do you have any awards or achievements relevant to the job or soft skills?
What do your former or current colleagues or peers say are your strong suits?
What do professionals in the industry you are applying for say are important skills to have, and can you include any of those?
Once you have a list of hard and soft skills, cross off any that you are not positive are areas of strength for you.
What to Put in the Skills Section of Your Resume
Now that you have your list of attributes that you have and abilities you are strong in, it's time to do a little more research to narrow it down to the skills to list on your resume.
If you have a specific job in mind, you will want to search for the skills necessary to do that job well and include the ones you share that are relevant. For example, if you have great customer service skills but the job you are applying for is a solo job in which you won't ever talk to clients, it's not a relevant skill.
If there is a specific company you are dreaming of working for, research the mission of that job and the culture it cultivates. Find skills to put on a resume that you share and can include that will help show the employer that you can bring those important values to the table, too, to help foster the atmosphere and environment the company desires.
Your skills should be complete now, and you'll need to determine the format you want to use to include them on your resume. This, in part, depends on the resume format or template you have chosen to use as your foundation.
When you incorporate your skills, you can do any of the following:
In a functional resume format, you can list your skills in a specific "skills" section. Use this section to list the skills that match the position you are applying for and the experience you have with each particular skill. This type of technique is good for those job searchers who are new to the job market or are changing their career from one industry to another.
If you have a professional work history, you can list the skills in your bullet points of experience, using action keywords from the job descriptions you researched. When you have a stable, strong work history, this should be included in your resume as the focal point. Any extra skills that you have that pertain to the job but can't be included in your professional experience can go in a separate skills section at the bottom of your resume.
Give a summary of your work history while incorporating keywords and skills into each job. Instead of using lists, intersperse your skills into the description of each job. You can give specific achievements, highlight key skills, and throw in strategically placed keywords.
It is usually easy to find hard skills to put on a resume that you want to include just by looking at the job description, but don't forget those all-important soft skills, too. This is where that list you made comes in handy.
Once you have your work history or your skills list, go back through it and see where you can squeeze in other relevant hard or soft skills. If you miss anything, though, you can always bring it up in the interview once you have wowed the reader with your amazing resume.
After you feel confident that you have included everything in the skills section of your resume, be sure to edit it!
Your Resume Talks Before You Say a Word
In most application processes, you will submit your resume to an impartial third party, such as a receptionist or a computer. The first impression a hiring manager will have of you is your resume, so taking the time to make it speak loudly and clearly for you is imperative.
When it comes to what skills to put on a resume, knowing how to write a skills section on a resume takes an insight into your own abilities, research into the job itself, and the use of strategic keywords. Before you turn in that document, put in the effort to ensure each of those three components are evident in your resume.
The extra work you put into shining a light on your hard and soft skills and getting to know the industry or company that you are applying for will pay off. Your resume skills section will show a hiring manager that you have an excellent blend of skills and will be an asset to their business. This will make you stand out from the other applicants!