IMPRESSIVE RESUMES EASY ONLINE BUILDER
Professional out-of-the-box resumes, instantly generated by the most advanced resume builder technology available.
Effortless crafting. Real-time preview & pre-written resume examples.
Dozens of HR-approved resume templates.
Land your dream job with the perfect resume employers are looking for!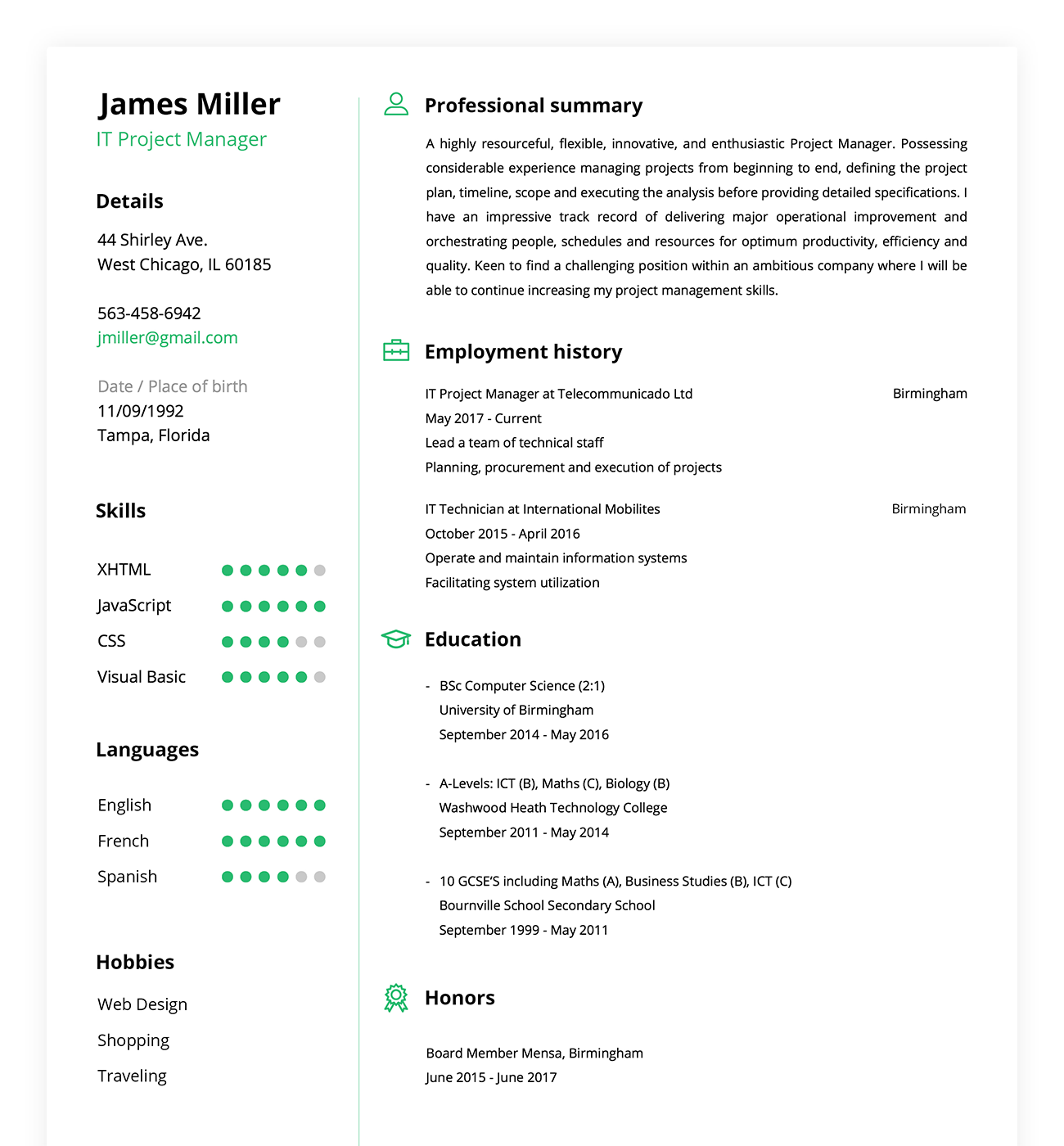 3 EASY STEPS TO CREATE YOUR PERFECT RESUME
CHOOSE YOUR
RESUME TEMPLATE
Our professional resume templates are designed strictly following all industry guidelines and best practices
SHOW WHAT
YOU'RE MADE OF
Not finding the right words to showcase yourself? We´ve added thousands of pre-written examples and resume samples.
DOWNLOAD
YOUR RESUME
Start impressing employers. Download your awesome resume and land the job you are looking for, effortlessly.
Resume Writing Guide
Resume writing is a skill that is crucial for anyone looking to land a respectable, steady job. Maybe you're just entering the job market after freshly graduating high school or college, or maybe you're looking to land that dream job that finally has an open position, or maybe you need a resume for something in between.
Whatever your reason, if you're here, you are one of those smart job searchers who understands that knowing what to write in a resume is the means to your future career. For many people, tackling that all-important document can be overwhelming at first. You have to do what does not come naturally to many of us - sell your great skills, talents, and qualities.
Sure, it's easy to nitpick everything we can't do well, and to tell others what they can do well, but when it comes to analyzing our own skills and expertise? Well, that's not easy for a lot of us to do, but if you want to compete with the other applicants who also want that same coveted job you are applying for, you've got to learn to do it and do it well.
Creating the perfect resume really is manageable if you break it down into parts and follow the guidelines we have for you here. One step at a time, you will find that resume writing is not quite as scary as you may have thought!
Why is a Resume so Important, Anyway?
In essence, your resume is a quick picture of your work life and, for intuitive hiring managers, it tells a story of your work ethic and character as a person. Whether you are called for an interview or not is almost always determined by the strength of your resume.
A resume is a record of all of your professional and academic achievements, your work history, skills you have compiled over the years, certifications, and other pertinent information that shows the reader that you have what it takes to do the job they need filled. It's usually the first impression that a hiring manager has of a potential candidate - in this case, you.
So how do you write a resume, this all important document that holds your future career in its hands?
What to Write in a Resume
Resumes at their basic level have been around for hundreds of years, although they have evolved with changing technology and societal expectations. Today, you may find that much of your application process, and maybe even your interview itself, takes place through the computer.
This knowledge is important because if you haven't been in the job hunting market for a while, or if you are new to it, you may be surprised to see that your resume may not even be seen by a person at all. Quite often, a computer scanning program is used to search for specific keywords in a resume before it even makes it to human eyes, so you need to prepare your resume for this fact.
Before you begin writing your resume, you need to determine the format you are going to use. This is the first step because, although some sections are essential no matter which layout you choose for your resume, some formats require or exclude certain sections.
Here is a general breakdown of the most commonly used resume formats:
Reverse-chronological: It's the traditional style of resumes and delineates your work history from most recent to earliest. Although it's vanilla, it is popular for its familiarity and many employers expect it. But if you are applying for a creative field, this one may not be the best choice for you.
Functional: Used mostly for those who are new to the job market or are leaping from one career field to a completely new one, this format emphasizes skills instead of work history. You may want to include a resume objective statement explaining your career move or lack of experience, though, or thorough employers may question your reliability.
Combination: If you have a lot of experience and skills, you should use the combination format. Although it's less common, it lets you highlight both your awesome work history and the mega skills you bring to the table.
Targeted: This one is more time consuming since it will be tweaked and customized for a specific job. With a targeted resume, you include skills, jobs, and experience that are only relevant to the job you are applying for.
Once you decide the format that you are going to use, follow the following resume best practices and guidelines to be sure you include everything necessary (and don't include extraneous information).
Resume Writing Guidelines and Best Practices
Learning how to write your resume is a skill that will take you far in your career. Because of the ever-changing way that we as a population live now, even if you already have a resume, you will need to stay up-to-date on job search expectations and keep your resume updated regularly using the following resume guidelines:
1. Hit the main points first. The tried and true foundational parts of a resume are also often the easiest to include. Go ahead and get them out of the way first. It knocks out the main aspects and should get your creative adrenaline going so you can keep that momentum and hit the harder stuff later.
Start with the simplest first - your personal information. Your header should be in larger font than the rest of your resume since you want to all but scream "Call me! Email me!" Put your full name, your city of residence, a good phone number, and your email address in your heading.
Move on to your education. Include your educational background, along with any degrees, certifications, and licenses you have. If you're glossing over this area, just put the main information (name, graduation year).
Otherwise, throw in your impressive GPA, nominations, and all of those other things that made you smile when you got them. But if you have a lot of credentials, don't go overboard. Only include those that are the most relevant.
Your work experience should come next. If you're in a reverse chronological format, list your experience with your most recent job and the achievements and most important responsibilities that you had in that position, and then move backward.
If work experience isn't your strong suit, include volunteer history or any skills that you have that make you a dependable, reliable person for the job. You can put all of this in a skills section. These types of skills can be anything from mastery or conversational levels of a foreign language to computer programs that you are competent in.
2. Choose concise language. Not only does your impressive vocabulary speak volumes to a potential employer, but strong, short sentences also do because the employers need to be able to scan your resume quickly.
The typical resume guidelines suggest making your document no longer than two pages, and preferable only one. With this length restriction, it's even more important to use as few words as you can, but make each one have impact.
3. Keep the focus on what you want to be hired for. Maybe you have years of experience in the sales field but want to transfer into another industry. Instead of focusing on your achievements in sales, build off of those experiences to show how those skills can help in your potential new career.
4. Do your research on the job. With the increasing reliance on computer scanning for many employers, this step is more important than ever before. When you research the skills needed for a certain job position, you can learn the keywords that you see frequently and include those in your resume so that it is more likely to be picked up by a computer program.
If you don't have a specific position in mind right now, think about your preferred job and research openings in that field. Incorporate as many of those main action words and keywords that you see regularly as you can.
5. Use numbers when possible. Infographics are a huge new trend on resumes when the position allows for them. Data and numbers speak more than words, so instead of saying something like, "Top sales for the third quarter in 2018," create a graph that showed your sales versus those closest to you, or one that shows your sales for each quarter of 2018. With all of the free programs available, this is not as daunting of a task as it may sound.
6. Edit, and then edit again. When you finish writing your resume, it is very important that you walk away from it for a little while before you try to proofread it. While it is still fresh in your mind, it's easy to miss errors. You may read what you think is written instead of what is actually there, or your brain may simply be so tired from working hard that it doesn't catch easy mistakes.
Once you have proofread multiple times, have someone else who is strong in the English language edit it for you. Ask them to check for things like typos, of course, but also ask them to let you know if there are any weak verbs, areas of confusion, or glaring gaps that you may have missed.
If you don't know anyone who can help you with this mega important task, you may consider paying an online company or hiring a freelancer to help you with a final run-through before you turn in your resume to any potential employer. One mistake can take all of your hard work and have it end up in the recycle bin.
Writing the Perfect Resume is an Important Skill
Like any skill, you may make mistakes at first and have to redo bits here and there, but when you are finished with the final product, your winning resume will show off your best attributes and help you land that interview.
From there, it's up to you and your amazing personality to score the perfect job!