IMPRESSIVE RESUMES EASY ONLINE BUILDER
Professional out-of-the-box resumes, instantly generated by the most advanced resume builder technology available.
Effortless crafting. Real-time preview & pre-written resume examples.
Dozens of HR-approved resume templates.
Land your dream job with the perfect resume employers are looking for!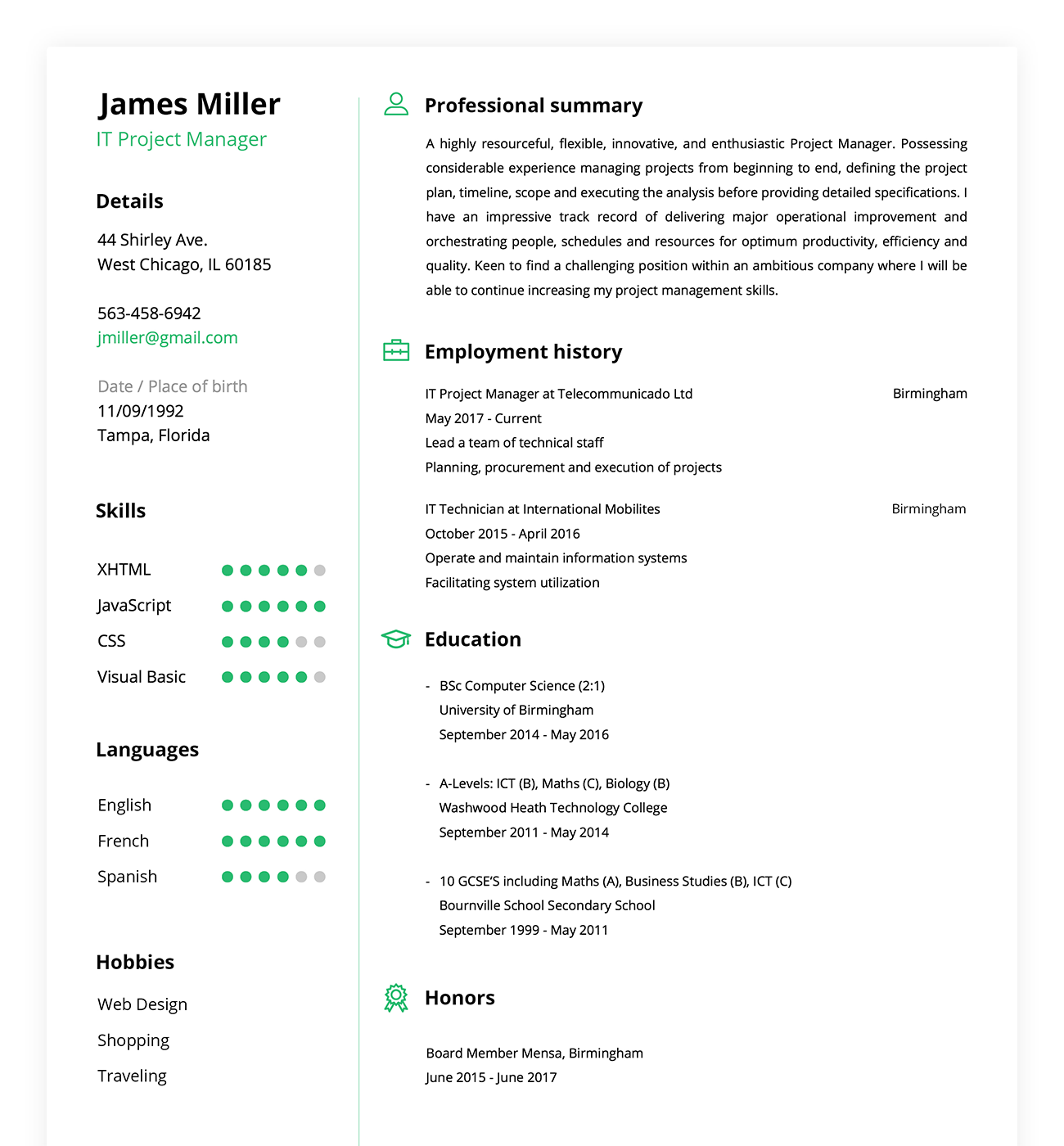 3 EASY STEPS TO CREATE YOUR PERFECT RESUME
CHOOSE YOUR
RESUME TEMPLATE
Our professional resume templates are designed strictly following all industry guidelines and best practices
SHOW WHAT
YOU'RE MADE OF
Not finding the right words to showcase yourself? We´ve added thousands of pre-written examples and resume samples.
DOWNLOAD
YOUR RESUME
Start impressing employers. Download your awesome resume and land the job you are looking for, effortlessly.
How to Use a Letter of Recommendation Template
Being asked to write a letter of recommendation for someone can be both a compliment and a curse if you're not sure what to say. There are a lot of letter of recommendation templates out there to help you, but now you have to learn how to use them, too. It may be tempting and seem easier just to tell the person no.
Before you do, though, try using this article to guide you on the basics of writing a letter of recommendation. You might just find it's not quite as difficult as you initially imagined!
What is a Letter of Recommendation Used For?
If you've never written one of these before, you need to know a little background on the importance of them before you start writing. It's quite possible you're holding the requester's career future in your pen (or keyboard), so if you have agreed to take on this responsibility, it's important to take it as seriously as the person for whom you are writing the letter.
A letter of recommendation is commonly called a letter of reference. It's a bit of a bonus that someone can turn in with their resume, during a job interview, or with a college application that helps them get the odds of being selected weighted a little more in their favor.
These letters are most often written by someone who has experience with the applicant in person and can knowledgeably write about their character and attributes. This is usually a close friend, teacher, boss, or a coworker.
Letters of reference are most often in the format of a recommendation for employment, a college or university recommendation, or a character reference. Submitting a strong letter of recommendation with your application can push you to the top of the pile for the next step in the acceptance process. It's an important document, and you should feel flattered that this person entrusted you with such a delicate but critical matter to them.
Yet, for some people, you may find it difficult to recommend them because your own character reputation hangs in the balance of their future actions. This is a very common problem that people asked to write these letters run into.
The right thing to do is to decline the opportunity to write the letter and suggest someone comparable that might be able to help the applicant, rather than delay the job or put a subpar effort into doing it because you just couldn't give them the shining recommendation they needed.
But if you do take on this challenge, here is everything you need to know about writing a reference letter.
What is Each Letter of Recommendation For?
The first type of letter is a job reference. This can be requested for one of two reasons: either the job requires a reference or the person is trying to increase the attractiveness of their resume. You need to ask them which one they fall under because it will help you know what to write.
If they need a strong reference because they are already being considered for an important position, it may help them if you know what the position entails and can directly point out attributes in the individual that will showcase these skills.
If they are just adding more to their resume, you can write about general character traits that will work for just about any job. You can use a letter of recommendation template for either of these situations, but again, knowing the specifics can help you tailor it to the person's needs.
The second type of letter of recommendation is written for students applying for universities or scholarships. Just about every university has a requirement for all applicants that they must submit a minimum of two letters of reference with their applications.
Even more stringent is the criteria that these letters should be written by someone familiar with your academic standing and capabilities, such as a teacher or professor. It may even be written by a guidance counselor or coach.
These letters are used by the admissions department to get an overall picture of the applicant. Sometimes their grades are subpar compared to other applicants, but a letter of recommendation can highlight the person's performance, diligence, and potential. Sometimes the grades are high, but a strong letter of recommendation can help the applicant stand out among others with just as high or higher grades.
If you are expected to write this kind of document, you can use a scholarship letter of recommendation template to guide you through the process.
The final type of letter is a personal or character reference. This is written by someone who has a good understanding of an individual, such as a coworker, a friend, a teacher, or anyone who can give an overall opinion of the person without being considered too biased. A parent would not generally be considered a good character reference, for example.
This type of letter is used by some employers as a way to learn about a potential hire before they decide to officially accept them. They use it, in addition to the other employment references and documentation, to make a final decision as to whether someone would be a good fit for the position and the company.
Formatting a Letter of Recommendation Template for a Student or Employee
Most letter of recommendation templates are easy to follow, but there are a few basic instructions that will help this process be much more streamlined for you, no matter how many reference letters you need to write in your life. They can all follow this same procedure.
The first thing to do to get started is to set your overall formats. You want to appear professional to these people who do not know you, so set your letter up in such a way that you look like you know what you are doing.
To create a professional letter of reference, you need to set your document up with the following formatting guidelines:
Margins: Margins should be between 1" to 1.5". Granted, the general expected length for a letter of recommendation is no longer than one page, so you may have to slightly adjust your margins to fit this, but try to keep them as close to these numbers as possible. Two pages is acceptable, but anything longer is excessive.
Font: Your text should be a size 12 legible font. Size 11 is acceptable if you are trying to limit your page length, but don't go below that or above a 12. Basic, clean fonts such as Arial and Helvetica should be used.
Alignment: Set your alignment up for a left alignment to keep an organized, readable flow of your text through the entire document.
Now that you've got a professional format ready to go, you can insert the template you have decided to use to walk you through the letter or simply follow this guide to ensure you include all of the essential parts of a letter of recommendation:
Contact information/ letterhead: If you already have a professional letterhead that you use, that can be your header. Otherwise, create one that includes your name, address, and contact information that you would like any potential employer or admissions director to use. This information should go above the date and on the left side at the top.
Purpose: Underneath the heading, the date should be placed, followed by the person you are writing to, their title, the company they work for or the name of the school, and that address. It is also acceptable to include "RE:" to inform the recipient of who or what the letter is about before they start reading.
Greeting: Keep this specific and professional. If you know the person who is receiving the letter, use their name and title as the salutation. Otherwise, you can use "To Whom it May Concern" if you are unsure what else to use.
Paragraph One - Introduction: Explain who you are and why you are writing the letter. This should include your relationship with the individual you are recommending, how long you have known them for, and why you are recommending them.
Paragraph Two - Achievements: In this paragraph, you should highlight any relevant achievements that you know this person has attained. You may include academic, personal, and professional strengths. Include specific examples.
Paragraph Three - Personal Attributes: In the third paragraph, give a well-rounded summary of the person's traits and characteristics that make them a strong applicant. Avoid anything that can be construed as negative or unnecessary.
If you are writing a letter of recommendation of employment for a previous employee, you may want to include why they left your company if it is an understandable reason (moving to a new location, an updated education, furthering their career path, etc.)
Conclusion: Paraphrase your recommendation and inform the reader that they can contact you with questions or concerns.
It's Over and You Did a Good Deed
Now that you've confidently finished writing your letter of recommendation, you can give it to the individual or mail it to the recipient and relax - it's over! You helped someone attempt to achieve their next goal in life and you did your good deed - and really, was it as difficult as you'd thought it would be?