IMPRESSIVE RESUMES EASY ONLINE BUILDER
Professional out-of-the-box resumes, instantly generated by the most advanced resume builder technology available.
Effortless crafting. Real-time preview & pre-written resume examples.
Dozens of HR-approved resume templates.
Land your dream job with the perfect resume employers are looking for!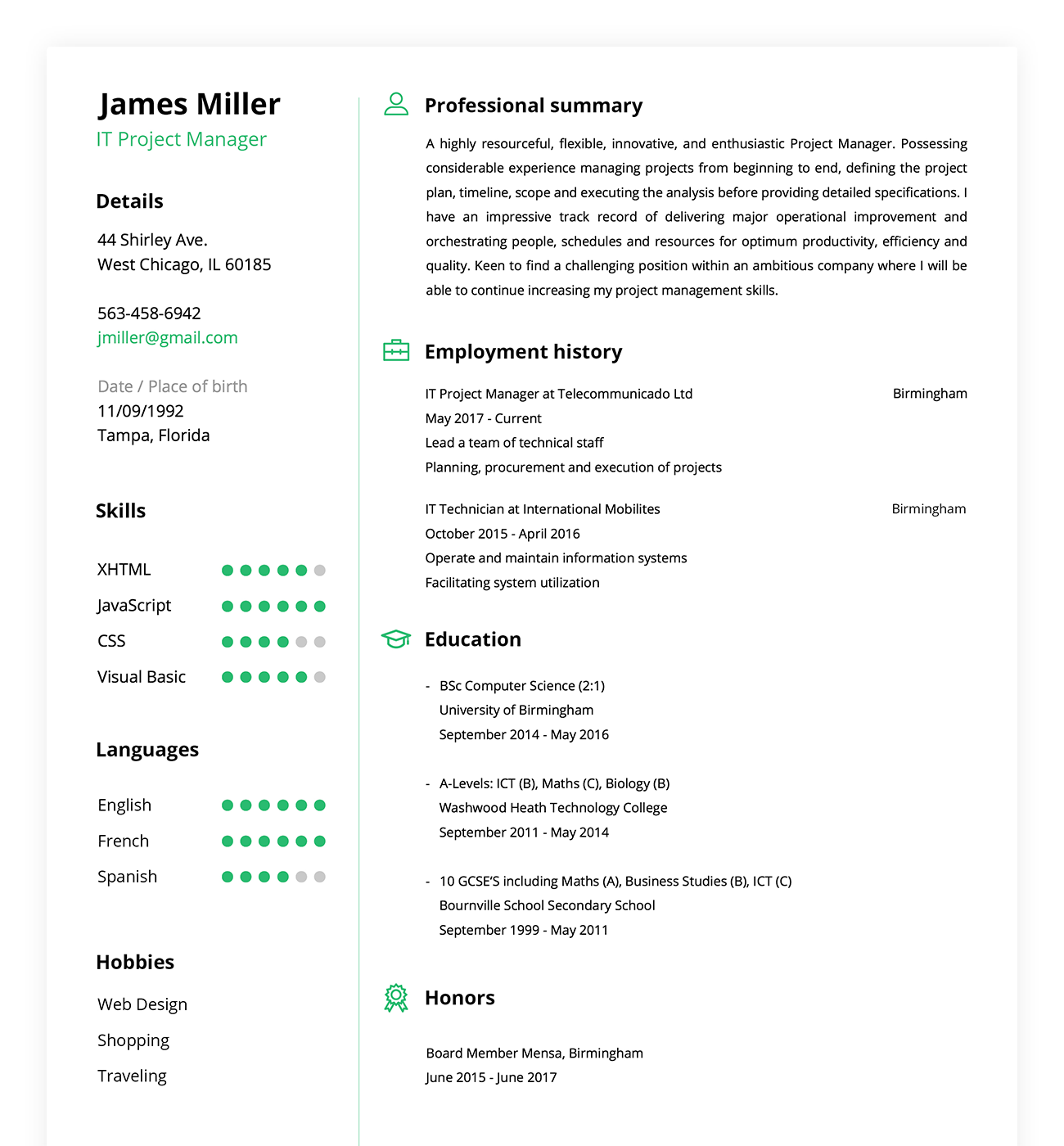 3 EASY STEPS TO CREATE YOUR PERFECT RESUME
CHOOSE YOUR
RESUME TEMPLATE
Our professional resume templates are designed strictly following all industry guidelines and best practices
SHOW WHAT
YOU'RE MADE OF
Not finding the right words to showcase yourself? We´ve added thousands of pre-written examples and resume samples.
DOWNLOAD
YOUR RESUME
Start impressing employers. Download your awesome resume and land the job you are looking for, effortlessly.
Cover Letter Format
First Impressions Matter: How to Make Your Cover Letter Format Stand Out:
When you are trying to land that perfect dream job, you probably spend hours and maybe even hundreds of dollars building your perfect resume, but the first impression your potential employer sees is your cover letter format.
A cover letter is an often overlooked integral piece of your resume. It gives you the chance to stand out from the other applicants by showcasing your professionalism and highlighting your key talents and skills that fit in with the company and position you are applying for.
Your resume cover letter format can convey enough information about you to pique the reader's interest and move you into the potential pile. Contrarily, though, if you have errors in your formatting - either in the content itself or the way your letter is set up - it can land your resume squarely in the recycle bin.
Because first impressions are so important and your cover letter is what stands between you and that dream job, it is crucial that it is properly formatted and error-free. It also needs to be individualized for the position you are applying for.
Here is everything you need to know to properly create the right cover letter format and what to include in a cover letter to make yours unique.
What is a Resume Cover Letter?
Before you start the process of creating your cover letter, it is important that you understand exactly why it is so important. Many people ask the question, "Are cover letters necessary?" This question shows that they do not understand the reason behind these essential components of your application.
The function of a cover letter function is to introduce you to the employer in a way that specifically shows off your skills and what makes you qualified for the position. It also highlights why you would be a good fit for the company.
In a way, it's a summary of your resume, but it is tweaked for the recipient and also includes your marketable qualities. It is not a repeat of everything that is already in your resume; rather, it is taking the important aspects of it and ensuring that those attributes grab the attention of the resume reader.
You can create a template for your cover letter format, but when you submit your actual cover letter in with your resume, it is unique to each employer.
Writing the perfect cover letter is a skill that requires finesse and thought. Like security in an airport before you can get to your gate, your cover letter must meet the approval of whoever is reading it in order for your resume to get through to the main event of the interview.
Before You Write Your Cover Letter, Take the Time to Prepare the Content:
Consider your cover letter to be the wrapping of the very important present that is your resume. You want it to look perfect for the recipient.
As with any gift, though, you can't just hand out random objects. You must research what the intended receiver wants and needs.
This means that you'll need to explore the job beyond the basic advertisement to determine the skills and qualities that the company looks for when they hire people, and what the job itself calls for so that you can highlight your talents that match these specifications.
When you learn what the job entails and what the company prefers, it will help you through the process of how to write a good cover letter. Sometimes the company is looking for experience, while other times they will train you as long as you have a strong work ethic. Knowing these preferences shows you what to focus on in your letter.
Researching the job and the company and showing your findings in your cover letter also tells the employer that you have put in the effort to learn about them because you find them important. The information you have learned can help you when you make it to the interview portion of the applicant process, too.
How to Make a Resume Cover Letter Format:
Since a cover letter is a professional representation of you, it needs to follow the same format that a business letter does. This means that you will start with a formal greeting, create a body in paragraph form, and then end with a closing and a signature.
Your cover letter format needs to be targeted directly for the position you are applying for. It needs to show the reader how you are qualified for the job before they even look at your resume. You will do this in three main parts: your first paragraph, middle paragraph, and concluding paragraph.
In your first paragraph, you will introduce yourself and explain the purpose of your letter. This can be different, depending on why you are writing.
Responding to a job posting - Explain where you first heard of the job opening and which position you are applying for. This is where you highlight a summary of your qualifications that meet the needs of the job. You are not focusing on these attributes yet - that will happen in paragraph two.
Seeking out potential openings - If you hope to work for a specific company but are unsure as to whether they have any jobs opening up in the near future, you can send a prospecting letter. In this type of cover letter format, you will introduce yourself and then state the job objective you are looking for, then explain why you should be kept in mind for any jobs that match that objective.
Referral positions - Sometimes you may have heard about an opening in a company through a friend or relative that works there or has a contact there. In this paragraph, you should respond to the job posting, but note that you heard about it through this specific person.
In paragraph two, you lay your cards on the table and show what you have to offer to the company. Focus on the qualifications that you researched that the company in general and the job, in particular, require and how your skills and experiences will help you to excel in that position.
However, if you are writing a prospecting letter, you will need to tweak this paragraph slightly. Since there is no specific job position you are applying for, you need to focus on your objective and how you would be an asset to the company. This will require a demonstration of thorough research about the business itself and proof of your skill set in this domain.
Even if you do not have much experience in the work arena, you can still shine through a cover letter. Look for jobs that are more focused on dedication and work ethic and use this paragraph to emphasize these areas. Many companies prefer a dependable, trainable employee over a skilled person that refuses to learn new ways, assimilate into the work atmosphere, or regularly calls out sick.
Your concluding paragraph is a short, succinct reiteration of your enthusiasm about the job and the necessary information about how you can be reached. Even if you have your phone number and address on the resume, include it here anyway. The easier you are to find, the more likely you will be called.
Be sure to include how you will follow up on the receipt of your resume. You may say that you will call to set up an appointment or verify that your cover letter and resume were received or give specific dates of when you will be available for a follow-up meeting.
End with a professional closing such as "Sincerely," "Regards," or "Cordially," then type your name and sign above it before submitting the letter.
Cover Letter Formatting Tips:
When you research how to make a cover letter for a resume, the content is important, but so is the formatting. One mistake can land all of your hard work straight into the junk pile. Be sure to follow these basic tips when you design your resume cover letter format:
Choosing your font - Less is more when it comes to your font style. Pick a basic sans serif font that is simple to read. Avoid silly fonts like Comic Sans or fancy ones like Corsiva. Calibri and Arial are commonly used. Remember to match your cover letter font to the one you use in your resume for consistency. Font size should be between ten and twelve.
Cover letter length - Because you are, in effect, trying to sell yourself, it can be easy to try to get verbose and explain all of your skills. However, your cover letter should not be longer than one page. Including your three to four paragraphs in this small area may be difficult, but by adjusting your font style and size and the page margins, you should be able to pull this off. General page margins are 1", but you can cut them down to ¾" or even .5" if you must.
Spacing matters - Your alignment should be set to the left. Be sure to set your spacing options to single-space. Leave a space between your address and the date, a space between the heading and the salutation, and a space between each paragraph. Also, leave a space between the closing and your signature and sign the letter in that space before submitting it.
Proofread, proofread, proofread - There are many techniques for proofreading, but this part can't be stressed enough. You can spend hours creating the perfect cover letter format only to have it tossed because of a careless mistake you overlooked. You can find an online editing program, hire a professional freelancer or editor to review your resume, or even do the "backward reading" trick you were probably taught in school - read the letter from the end to the beginning to be sure you didn't miss anything. Whatever works for you, as long as you edit carefully.
Your Cover Letter Format is the First Impression of You
The saying goes, "You never get a second chance to make a first impression," so use this opportunity to present yourself carefully. Take the time to plan your cover letter ahead, research the job and the company, and then carefully cultivate and format your first impression.
When you put effort and dedication into your cover letter format and the resulting resume, the impact is obvious and your first impression is a lasting one that can carry you straight into an interview.