Land Your Dream Job Straight Out of College with a Resume Building Tool
After studying for what seems like years on end, chances are that you're ready to kick off your career. Unfortunately, finding a job after graduating from college is often an obstacle-ridden journey. As a fresh graduate, while you have eagerness on your side, you likely lack work experience.
So what if we had some insider tips on how to not only land a job straight out of college—but your dream job at that? If you're ready to set the wheels in motion, make sure you take on board the advice of the following eight experts.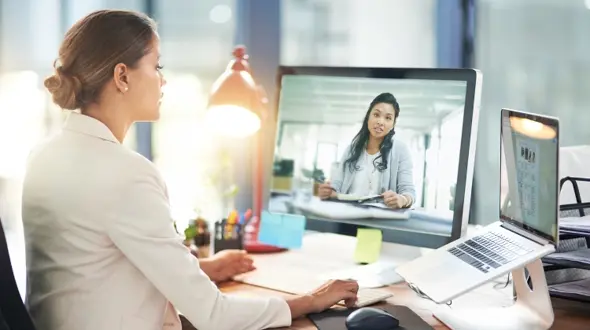 1. Pinpoint What Your Dream Job is
The first step to moving towards your dream job is to identify what your dream job actually is and why. It sounds obvious to say, but Simon Royston, Founder and Managing Director of the recruitment agency, The Recruitment Lab, says doing so is vital to your post-graduation success. "If you don't have a goal to aim for then guess what; you won't hit it," he says.
"We live in a world where those entering the job market are almost spoilt for choice in terms of the job titles they could apply for. The earlier you identify what you want to do the easier it will be to reach it."
Royston advises that by deciding early enough that you want to work in a certain role or industry, you will obtain a number of significant advantages. For example, he shares that you will be able to ensure you study the right courses, search for an internship, or land unpaid work experience.
2. Start Researching Early
Darko Jacimovic, a Career Expert and Co-Founder of the career and education guide, WhatToBecome, agrees that putting in the hard work while still in college will make a considerable difference in your efforts to land your dream job. "Fresh graduates who wait to complete the university in order to start looking for opportunities may have difficulties landing a dream job," he points out.
"However, those who start researching during the senior year have a much higher chance of making significant contacts and potentially receiving offers before graduation."
To put your research to good use, Jacimovic encourages college students to send a resume and a letter of interest to their dream companies ahead of time. "It never hurts, and even if it doesn't bring a job straight away, it shows initiative and may serve a good signal to hiring managers."
3. Get a Helping Hand
If you've been having trouble putting your resume together, there's no shame in getting a helping hand. In fact, getting some expert guidance will help put you ahead of candidates whose resumes look unprofessional and lack key components. That's why the Founder of the go-to online resume builder, Resume Build, strongly recommends using an HR-approved resume builder.
"Our resume builder has been developed in consultation with resume experts, such as HR managers and recruiters," he shares. "Creating your resume with a resume builder will not only ensure that it is correctly and professionally formatted, it will also guarantee that it includes the most critical resume components hiring managers are looking for."
The beauty of using a resume builder is that you can select from a range of templates and customize your chosen one according to your needs. Moreover, if you're having trouble filling out your resume or presenting yourself in the best light, you can even select from a range of pre-written examples that will be automatically added to your resume.
4. Brevity is Key
It can be tempting to stuff your resume full of every academic and professional achievement that you've had to date. The more you have on your resume, the bigger the impression you'll make, right?
This is precisely the approach Jon Hill, CEO of energy industry focused staffing and management firm, The Energists, warns against. "I look for brevity in resumes—it's an underrated quality," he says. "I'm not looking to hire the person who submits a 500-page novel that outlines everything they've done in their life. I want to hire the person who can tell me what makes them a valuable asset in as few words as possible."
Hill explains that given the hiring process takes a lot of time and costs a lot of money, keeping your resume short shows employers that you understand business and respect their time. It's for this reason he says he spends "a lot more time with 1-page resumes than with 2 or 3-pagers."
5. Start Networking & Utilize Free Resources
Competing against more qualified candidates can feel like a losing game. However, if you start networking and making use of free resources, the President of the career coaching service, MJW Careers, Matthew Warzel (CPRW) (CIR), says that you'll put yourself in the best position you could possibly be in.
"Start networking online and utilizing free resources like local career coaches, collegiate career centers, recruiters and government-sponsored career resource centers," he advises.
"Get your name out there in your targeted area, because you never know who might pass your information along to someone hiring." Warzel also emphasizes the importance of working hard no matter the role, and continually pursuing your dream job while picking up skills and credentials along the way.
6. Interview Experts in Your Chosen Industry
A unique insider tip John Paul Engel, the Founder of the boutique management consulting firm, Knowledge Capital Consulting, offers is to conduct a research project by interviewing professionals who are currently working in your dream job. He explains that it's best to set out to interview at least two people a week.
So what exactly should you ask them? Engel says it comes down to three questions:
How did you get in this career?: This origin story will help your interviewee remember being in your position when starting out.
What have you learned that helped you be successful?: By asking this, you will learn something that cost them pain or money, and also give them kudos at the same time.
What can a student like myself do to prepare for this career?: This question works as a soft ask for help.
7. Show Initiative
Reuben Yonatan, Founder and CEO of the VoIP service provider, GetVoIP, says that the number one thing he looks for as a CEO when it comes to young job applicants is initiative. "Every resume I see has stellar academic qualifications. I want to see that you have done some kind of real work in your chosen field."
"If you're a developer, have you volunteered on open-source projects? Can I see a project of yours on GitHub that's being used by other people? If you're a marketer, do you have YouTube videos or a humorous Twitter account with a few thousand followers that you've built over the last couple of years?"
It's examples like these of showing initiative that Yonatan says show him that you know more than just what you learned in class, as well as the fact that you're serious about this career path and about taking the initiative to develop your skills. "I'll take someone who demonstrates initiative over someone with a high GPA just about every time."
8. Create a Personal Website
Another easy way to make you stand out amongst other college graduates is to make a personal website. "First things first, you need to make yourself into a professional," advises Nate Masterson, the HR Manager of the holistic beauty company, Maple Holistics. "You might be a fresh graduate, but if you look like you've been in the field for a while, employers are more likely to take you seriously.
If you're worried about having minimal experience to your name, don't let that discourage you. Masterson reassures college students that they don't need to have years of experience to create an eye-catching personal website. "Whether it's a blog or a standalone page, use your website to create a portfolio of your current work so that employers can see beyond your resume."